CULINESSE
JOSERA Culinesse with refined salmon is just the thing for discerning cats. The balanced formula makes JOSERA Culinesse easy to digest and particularly tasty.
With delicious salmon for your gourmet cat
The moderate fat content makes JOSERA Culinesse ideal for indoor and outdoor cats
Valuable fatty acids, vitamins and trace elements for healthy skin and a shiny coat
Encourages a pH-value of 6.0-6.5 to reduce the risk of urinary stone formation
Complete feed for adult cats.
Pakendi suurus:
400g
2kg
15kg
10kg
4.25kg
Complete feed for adult cats.
Composition: poultry protein (dried); rice; maize; greaves; poultry fat; sugarbeetpulp; salmon meal 6%; poultry protein (hydrolysed), maize protein; poultry liver (dried), minerals;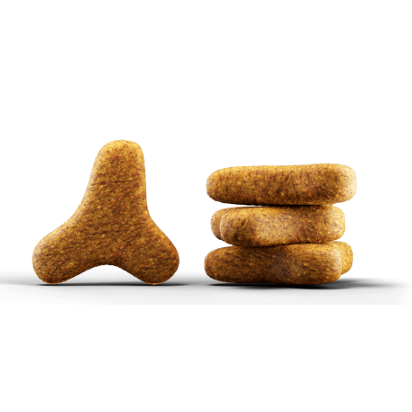 amount of food
Culinesse / 24 h
2 - 3 kg
30 - 45 g
3 - 4 kg
45 - 60 g
4 - 5 kg
60 - 75 g
5 - 7 kg
75 - 105 g
7 - 10 kg
105 - 135 g
Please keep in mind that the recommended amounts are only a rough indication and should be adapted to the individual cat's feeding needs and activity level. Always provide your cat with fresh drinking water.
Analüütilised koostisosad
valgud
31.0 %
rasvasisaldus
13.0 %
toorkiud
2.2 %
toortuhk
6.9 %
kaltsium
1.30 %
fosfor
1.05 %
Magnesium
0.10 %
Toitainelised lisandid 1 kg kohta
A-vitamiin
24,000 I.U.
D3-vitamiin
1,800 I.U.
E-vitamiin
220 mg
B1-vitamiin
15 mg
B2-vitamiin
20 mg
B6-vitamiin
20 mg
B12-vitamiin
100 mcg
Toitainelised lisandid 1 kg kohta
pantoteenhape
50 mg
niatsiin
90 mg
foolhape
5 mg
biotiin
1,000 mcg
tauriin
1,500 mg
raud (raudsulfaat, monohüdraat)
175 mg
tsink (glütsiini hüdraadi tsinkkelaat)
150 mg
seleen (naatriumseleniit)
0.25 mg
mangaan (mangaan(II)oksiid)
15 mg
vask (glütsiini hüdraadi vaskkelaat)
18 mg
jood (veevaba kaltsiumjodaat)
1.80 mg
Tehnoloogilised lisaained
Antioxidants: tocopherol extracts of natural origin.
Toote eelised

Anti-Hairball
Dietary fibre supports the transport of swallowed hair through the digestive tract and can thus help prevent the formation of hairballs.

Urinary-pH 6.0-6.5
The careful selection of ingredients and the special recipes ensure a perfect calcium-phosphorus ratio and a reduced magnesium level. A pH-value of 6.0-6.5 is being supported and can reduce the risk of urinary stone formation.

Skin & coat
Shiny and silky fur and healthy skin are signs of optimal nutrition for your cat. This is the result of valuable fatty acids, vitamins, as well as zinc and copper in an easy to absorb form in an organic compound.