MINIDELUXE
With no grains but full of vegetables, herbs and fruits along with a large portion of lamb, this dogfood offers our little scoundrels a meal with no regrets, full of taste yet easy to digest.
Lamb instead of poultry
Reduces the risk of tartar formation
Ideal as grainfree nutrition for small dogs
With herbs and fruits: (carob, chicory root, raspberries, peppermint, parsley, chamomile, rose hips, liquorice root, aronia, fenugreek seeds, blueberries, marigold, fennel)
With delicious sweet potatoes
Complete feed for adult dogs
Pakendi suurus:
900g
5x900g
15kg
Complete feed for adult dogs
Composition: dried lamb protein 25.0 %; dried potato; sweet potato; poultry fat; potato protein; beet fibre; carob meal; partially hydrolysed yeast; minerals (sodium tri-polyphosphate 0.35%); hydrolysed animal protein; apple fibre; herbs, fruits; ground chicory root (natural source of inulin).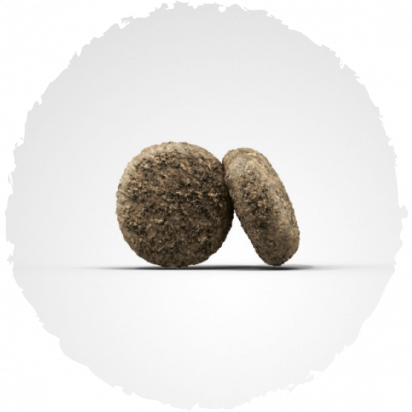 amount of food
inactive/older
(per animal and day)
normally active
active
2 kg
35 g
45 g
50 g
4 kg
60 g
75 g
85 g
6 kg
65 g
80 g
95 g
8 kg
70 g
95 g
110 g
10 kg
85 g
115 g
140 g
Please note that the indicated quantities are only guideline values ??and must be adapted to the feeding condition of your animal as well as its activity. Always provide your pet with fresh drinking water
Analüütilised koostisosad
valgud
25.0 %
rasvasisaldus
17.0 %
toorkiud
2.2 %
toortuhk
9.1 %
kaltsium
2.00 %
fosfor
1.25 %
Toitainelised lisandid 1 kg kohta
A-vitamiin
24,000 I.U.
D3-vitamiin
1,800 I.U.
E-vitamiin
220 mg
B1-vitamiin
15 mg
B2-vitamiin
20 mg
B6-vitamiin
20 mg
B12-vitamiin
100 mcg
Toitainelised lisandid 1 kg kohta
pantoteenhape
50 mg
niatsiin
90 mg
foolhape
5 mg
biotiin
1,000 mcg
tauriin
1,000 mg
raud (raudsulfaat, monohüdraat)
200 mg
tsink (glütsiini hüdraadi tsinkkelaat)
180 mg
seleen (naatriumseleniit)
0.30 mg
mangaan (mangaan(II)oksiid)
18 mg
vask (glütsiini hüdraadi vaskkelaat)
20 mg
jood (veevaba kaltsiumjodaat)
2.00 mg
Tehnoloogilised lisaained
Antioxidants: tocopherol extracts of natural origin.
Toote eelised

tartar prophylaxe
Reduced risk of tartar formation by binding calcium in the saliva.

Grain-free
This recipe does not contain any grain and is suitable as a daily grainfree food for healthy and sensitive dogs.

Herbs & fruits
Selected herbs and healthy fruits complete this formula and offer the dog a tasty variety.