SENSIPLUS
For our loyal companions with special requirements: The extremely well-tolerated light food with selected ingredients. Easily digestible ingredients also relieve strain on a sensitive digestive system and offer a well-tolerated diet. A wholesome delight with tasty duck and rice.
Suitable for sensitive dogs
Highly digestible and processed with special care
With lots of biotin for healthy skin and a shiny coat
A very high level of acceptance, therefore also suitable for finicky dogs
Complete feed for adult dogs
Pakendi suurus:
900g
5x900g
15kg
Complete feed for adult dogs
Composition: dried poultry protein (poultry 12.8 %, duck 15.0 %); whole grain corn; rice; beet fibre; poultry fat; hydrolised poultry protein; minerals; chicory root (ground, natural source of inulin)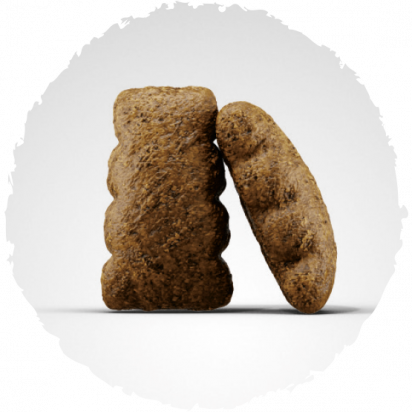 amount of food
inactive/older
(per animal and day)
normally active
active
5 kg
55 g
65 g
85 g
10 kg
85 g
115 g
145 g
20 kg
140 g
195 g
245 g
30 kg
190 g
260 g
330 g
40 kg
240 g
325 g
410 g
60 kg
350 g
455 g
560 g
80 kg
400 g
545 g
690 g
Please note that the indicated quantities are only guideline values ??and must be adapted to the feeding condition of your animal as well as its activity. Always provide your pet with fresh drinking water
Analüütilised koostisosad
valgud
24.0 %
rasvasisaldus
12.0 %
toorkiud
2.3 %
toortuhk
7.0 %
kaltsium
1.45 %
fosfor
1.00 %
Toitainelised lisandid 1 kg kohta
A-vitamiin
22,600 I.U.
D3-vitamiin
1,700 I.U.
E-vitamiin
200 mg
B1-vitamiin
15 mg
B2-vitamiin
20 mg
B6-vitamiin
20 mg
B12-vitamiin
100 mcg
Toitainelised lisandid 1 kg kohta
pantoteenhape
50 mg
niatsiin
85 mg
foolhape
5 mg
biotiin
950 mcg
raud (raudsulfaat, monohüdraat)
200 mg
tsink (glütsiini hüdraadi tsinkkelaat)
160 mg
seleen (naatriumseleniit)
0.30 mg
mangaan (mangaan(II)oksiid)
16 mg
vask (glütsiini hüdraadi vaskkelaat)
20 mg
jood (veevaba kaltsiumjodaat)
2.00 mg
Tehnoloogilised lisaained
Antioxidants: tocopherol extracts of natural origin.
Toote eelised

easy digest
The premium quality and the gentle processing of the selected ingredients ensure easy digestibility and provide the optimal diet even for dogs with sensitive digestive systems.

Skin & coat
A shiny coat and healthy skin are signs of optimal nutrition for your dog. This is the result of valuable fatty acids, vitamins, as well as zinc and copper in an easy to absorb form in an organic compound.

Moderate energy content
This formula has a moderate fat content and is especially well-suited for dogs with normal activity levels.